ORDER TICKETS ONLINE
Tickets must be bought in Ontario by a person 18 years of age or older.
ORDER YOUR TICKETS ONLINE NOW!
THANK YOU FOR YOUR SUPPORT.

ORDER YOUR TICKET BY MAIL OR EMAIL
  DOWNLOAD, print, complete & mail to: Elmvale & District Lions Club
PO Box 3090, Elmvale, Ontario L0L 1P0
TO EMAIL –   DOWNLOAD, print, complete and EMAIL
Online Ticket Registration Form
ORDER AND PAY ONLINE
Once you have completed the ticket order form below, you will be prompted to enter your credit card information.  You will receive a receipt for payment, and your ticket confirmation will follow shortly after.
PLEASE NOTE: Due to the high demand in ticket sales, it may take a couple of days to issue you your tickets.
Thank you for your support! Good Luck!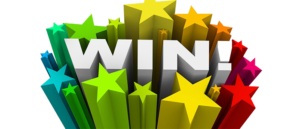 8th Annual Truck Draw- Licence #M802544
Win a 2023 Ford Ranger XLT 4WD Supercrew
Grand Prize: Valued at $48,000
3 consolation prizes of $500, $300 & $200
Tickets are $20/each – with only 7000 tickets printed.
Draw Date: Saturday, October 7th, 2023
**We accept VISA & MASTERCARD ONLY – No Debit or American Express**
For more information please call 705 333 8946
PLEASE NOTE:
We are a volunteer organization so sometimes it make take 7 days to process your ticket request. Thank you for your patience.
Unfortunately due to Lottery & Gaming Laws we can only sell tickets online to Residents of Ontario
An answering machine will record your message/request and your contact number.
A Lions Volunteer will get back to you.
Thank you for all your support.
If you would rather print a ticket order form and mail it in, please:
DOWNLOAD, print, complete & mail to: Elmvale & District Lions Club
PO Box 3090, Elmvale, Ontario L0L 1P0
TO EMAIL –   DOWNLOAD, print, complete and EMAIL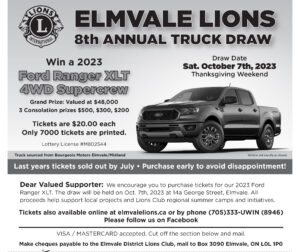 Tickets are also available at:
Lynnstone Funeral Home
Bourgeois Motors – Elmvale and Midland
Elmvale Curling Club
Carquest – Elmvale
The Tire Buster
Any Elmvale Lion Club Member
CONGRATULATIONS TO OUR 2022 WINNERS:
Truck – Kyra Jessup – Bradford
$500 – John & Jennifer Wolfe – Barrie
$300 – Ed Iwanchuk – Grimsby
$200 – Martin Vanderbeck – Braeside