ORDER TICKETS ONLINE
Simply complete the registration form below and submit.
Tickets must be bought in Ontario by a person 18 years of age or older.
MAIL OR EMAIL
  DOWNLOAD, print, complete & mail to: Elmvale & District Lions Club
PO Box 3090, Elmvale, Ontario L0L 1P0
TO EMAIL –   DOWNLOAD, print, complete and EMAIL
7th Annual Truck Draw- Licence #M-802539
2022 Ford F150
Consolation Prizes valuing $1000
Draw takes place on Saturday October 8th, 2022
**We accept VISA & MASTERCARD ONLY – No Debit or American Express**
For more information please call 705 333 8946
PLEASE NOTE:
We are a volunteer organization so sometimes it make take 7 days to process your ticket request. Thank you for your patience.
Unfortunately due to Lottery & Gaming Laws we can only sell tickets online to Residents of Ontario
An answering machine will record your message/request and your contact number.
A Lions Volunteer will get back to you.
2021 Winner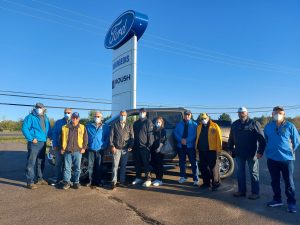 Thank you for all your support.
Online Ticket Registration Form
Tickets are also available at:
Lynnstone Funeral Home
Bourgeois Motors – Elmvale and Midland
Elmvale Curling Club
Carquest – Elmvale
The Tire Buster
Any Elmvale Lion Club Member